Ballistol Gun Cleaning Oil & Lubricant
Many uses for Ballistol Gun Cleaning Oil and Lubricant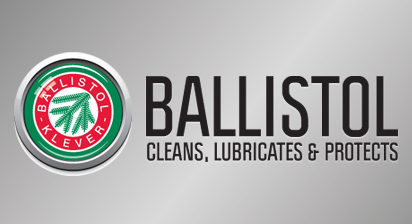 Use Ballistol Gun Cleaning Oil to lubricate, clean, preserve, protect, prevent corrosion, maintain and rejuvenate your firearms.
Impregnates - Due to Ballistol's low surface tension, it is capable of creeping into the finest cracks and openings.
Lubricatant - Ballistol Oil can be used to lubricate practically anything.
Protects - Ballistol Oil forms a protective film on the surface of metals. Safe to use on plastic or paints which are chemically resistant to oils.
Cleans - Ballistol Oil dissolves traces of lead and copper.
Rejuvenates - Ballistol Oil enhances the wood grain of gun stocks and protects against humidity.
Non Toxic - Ballistol Oil is non-toxic and contains no carcinogenic substances.  It is biodegradable.  Its natural decomposition will not produce any by-products which may be harmful to the environment.
The Birth of Ballistol Gun Cleaning Lubricant
At the turn of the 20th century the German Army began looking for a versatile oil to be used by soldiers in combat – a substance which could be used to clean and protect metallic rifle parts, to protect leather gear and wooden gun stocks, and even to disinfect minor cuts and scratches.  
The army turned to the Klever Company. In 1904 the company succeeded in creating this new oil. The army tested and approved this new 'ballistic oil' and began using it in 1905. 
The most unique feature of Ballistol oil and lubricant is perhaps its versatility. There are a multitude of applications - from water proofing leather to removing tar and insect stains off automotive paint work.
Click on images to enlarge.
Each
Ballistol Gun Cleaning Oil and Lubricant - 50ml - Pump Can
$ 9.50
$ 103.20
Ballistol Gun Cleaning Oil and Lubricant - 200ml - Aerosol Can
$ 11.40
$ 124.80
Ballistol Gun Cleaning Oil and Lubricant - 400ml - Aerosol Can Oil.

MSDS Aerosol.pdf

$ 20.60
$ 244.40
Ballistol Gun Cleaning Oil and Lubricant - 500ml - Pure Oil.

MSDS.pdf

$ 27.00
$ 292.80
Send us an email to order on-line. Please include product code, quantity required, your name and delivery address and we'll send you a no obligation quotation with payment options.
We ship Ballistol Oil by Courier to a street address, no PO Boxes.
Prices are cash with effect from 27 April 2018, and subject to change without notice.