Ammunition for Sale
Hunting & Target Ammunition - Air Pellets, Rimfire & Centrefire
Acme Firearms offers an extensive range of air pellets, rimfire and centrefire ammunition for hunting and target shooting. We are consistently the cheapest supplier of ammunition in Victoria.
Never spend more money than you need to for quality hunting and target ammunition. We can save you money. We publish our prices which other gun stores try to match.
Compare our ammunition pricing with other gun shops and save today.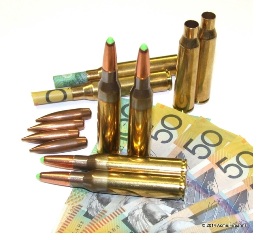 CCI is a manufacturing leader in hunting rimfire ammunition in .22 lr .22 WMR and .17 HMR
Eley manufactures high quality target grade .22 lr rimfire cartridges.
Federal manufactures a complete line of shotshell, centrefire & rimfire ammunition plus components.
Lapua premium .22 lr rimfire and centrefire cartridges for specialist use.
SK manufactures accurate target .22 lr rimfire cartridges at a competitive price
Starline prides itself on producing the highest quality brass case available.
Haendler & Natermann the most extensive range of air pellets from a single manufacturer. Reknown throughout the world for producing high quality air pellets with ongoing product innovation.
Click on images below to view brand.